Are you planning any kind of video shooting in the Czech Republic?
Do you need a reliable, professional video production crew in Prague?
Were you looking for a videographer to complete your project?
Then you are in the right place. Hiring the right team for video production in Prague is very important. My name is Otto Beck, and I believe that I'm the perfect person to answer those burning questions!

Knowledge, though, is power.
With the right knowledge, you can make the right call on the video expert best suited to your needs. In this article, I will talk through the important things to consider before you choose right video production/videographer for your job.
However, before I start, I want to mention that I will talk here about small/medium budget projects. Larger projects will typically need something a bit more specific to the request, so keep that in mind.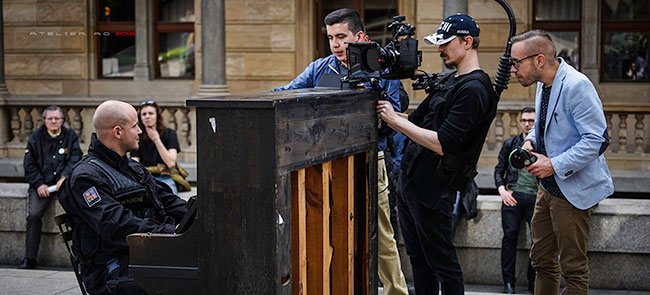 About my videography in Prague and the Czech Republic
For the last decade, I have worked in HayotFilms video production studio in Prague as the main cinematographer/director. Here, I've learned many things about client needs and how video production studios work here in Czech Republic. This gives me, I think, a valuable insight into making the right calls for your videography needs moving forward.
Where to look for video production crew or videographer?
Many our clients live abroad and come to our city to make promo videos, interviews, music videos, weddings, conference shots and so on. It's not budget-friendly to bring with them a video production team or cameraman to shoot their project. Therefore, it's much easier to find someone local here in Prague. So, they google them, and search results get you many pages.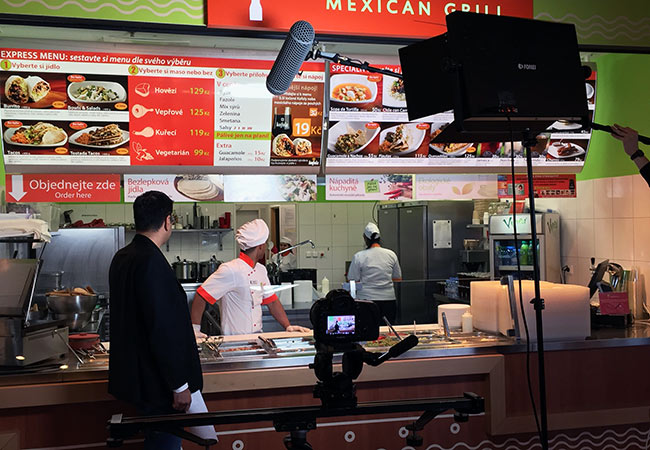 So, with so many options, how can you make sure that you choose the right one?

First thing is first: you must know the answers to these questions about your project:
Do you need video crew in Prague? Or just one cinematographer/cameraman in Prague?
What's the type of project? (i.e. promo, wedding, music video, interview)
What are the expected or needed shooting hours? (1-12 hours, days)
What's your maximum budget? (optional)
Dates of shooting and location preferred, if they are fixed in place.
Optional details, like the camera type, lightning, sound and so on.
These things are very important things to know for a video production studio. It will help to give you a more accurate estimated price for your planned project in Prague.
Before you send emails to any videographer in Prague, though, you should check these things from their website:
The first thing to do is read about them and learn about what kind of achievement and projects they've taken on in the past.
Of course, check their portfolio. Each studio has their own style of shooting. If you like it, it's good to go.
Check how much they charge for different type of shooting. This will help you to know if you can get your job done within your budget, meaning you don't lose time emailing them. Rates can be in EUR or Czech Crowns, roughly speaking 1 EUR = 26 CZK.
Check out their clients and reviews on Google (for example, look our HayotFilms Production reviews from our amazing clients)
Identification license number (IČO) check. You can do it on the official website.
So, let's say you email them and get responses with their rates for your project. Sometimes it can fit your project budget and sometimes it doesn't.
If it does not, but you are keen to work with this company what should you do?
Try emailing them again, this time stating your maximum budget. Inform the company that you really like their work and ask if they can offer something within your budget.
I'm not sure how it is in other video production studios in Prague, but at HayotFilms we always try to come up with something within our client's budget, so everyone is happy. Sometimes, though, that might not be possible, so keep that in mind.
Rates
Video Production crew Rates/Prices in Prague, Czech Republic
So, with that in mind, how much do video production studios charge for one day?

It's hard to say exact rates, but for good ones it can start from 1000 EUR up to 10000 EUR per day (8-12 hours of shooting). If you are looking around small/medium video productions, the price could be anything in-between relative to quality and experience.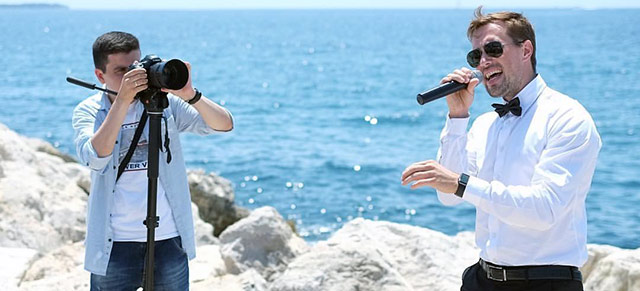 It really depends how big a video crew you need and what kind of camera (RED, ARRI, Canon DSLR) . Also, other factors will come into play, such as whether light equipment will be used, whether you need actors, models and so on.
How about if I need only one videographer in Prague for couple hours?
If you don't need a video crew for a day, but only just one cameraman in Prague to shoot your small project, then rates can be lower.
For example, at HayotFilms we charge from 1000 EUR per day for one professional cameraman with production assistant. This includes the use of our camera equipment, without post production.
If you need more than one cameraman with equipment, then rate can be 50% more. When a shooting more than 6 hours, rates can be lower. So, it all comes down to your needs for a videographer in Prague.
More useful tips for choosing the right video production crew in Prague
When you order a shooting from video production studio, you must make deposit, so they book a date of shooting for you. Always ask for an official invoice, before making any payment.
If you make an order with post production, always make sure there is an agreement on a finishing date. This is the date when they give you the final product.
If your project requires drone shooting in Prague, then ask video production if they have a licensed pilot for aerial shoot in Czech Republic. Shooting without license in the middle of Prague or other locations is dangerous. Indeed, shooting without a license could risk a fine up to 50 000 EUR. Be aware of the risks.
If you are cinematographer and you have a shooting in Prague, you can also use local videographer as a B roll. This can help you with shooting, help you to spot good locations, obtain permission, rent equipment and so on. We offer this service at HayotFilms, so just let us know what you need!
If you need rent professional camera or other film equipment in Prague, you can always do it through film equipment rental firms in the Czech Republic, such as Los Rentalos and Bio Films. They provide good rates and what's important they are reliable
Czech Republic, especially Prague, is a great location for video shooting.
If you decided to shoot your project in this city, all I can say is you've made a fine choice. If you need any help with a shooting your project in Prague, or in any other cities in the Czech Republic and Europe, then just email us at HayotFilms. We will provide a response within hours.
Want to see what we can do? Then check out our portfolio and rates. You can find them on our main page at https://hayotfilms.com