We as a video production company in Prague, we shoot different promos, commercials, live-stream events and corporate videos in Czech Republic and we use professional two way radios or wireless intercoms all the time in our production.
They are very useful when you need to reach out to some of your crew members within 100-400 meters. Until recently we've been using walkie-talkies from Motorola, but a couple of months ago Hollyland reached out to us to test their new wireless intercom device Solidcom C1. We decided to try it out.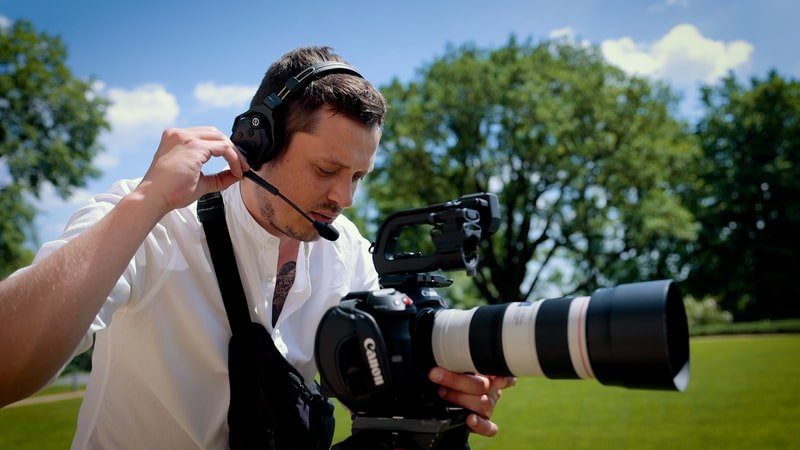 The Solidcom C1 is a full-duplex wireless intercom headset system, which uses the latest technologies like DECT 6.0 and 1.9 GHZ band. It reaches about 350m transmission range and it is interesting that you don't need any hub to get it to work.
I didn't want to make a review straight after I received the unit. Instead I decided to test it out for a couple of months and give you my real life experience review. I thought it's more useful than just unboxing it. That way I can help you to decide whether you should buy this device and if it's right for you.
Solidcom C1's Pros
Now let's first talk about the pro's of Solidcom C1. Honestly we as a crew really fell in love with this intercom. It's very portable, lightweight and best of all you don't have any cables going around you, which is very important.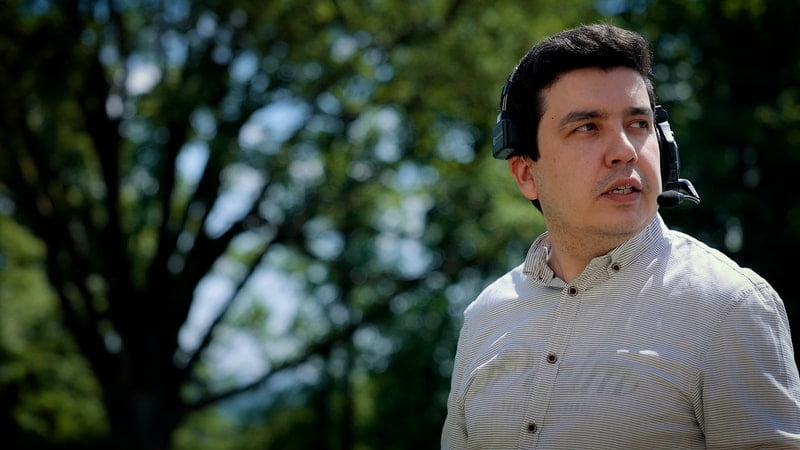 When we used Motorola two way radios, I held it in my hand or I used special headphones and hung the actual radio in my belt. Both options were not convenient to use throughout the day.
Solidcom C1 solves these problems. You just need to put the headphones over your head, turn it on and you are ready to go. It's that simple. No choosing channels, it connects to all headphones automatically within a few seconds.
Also I loved how easy it is to switch on and off the microphone when you need it. You just have to turn it down or up to activate/deactivate the mic. Voice quality of this wireless intercom is really great.
You can clearly hear your crew members without any problem.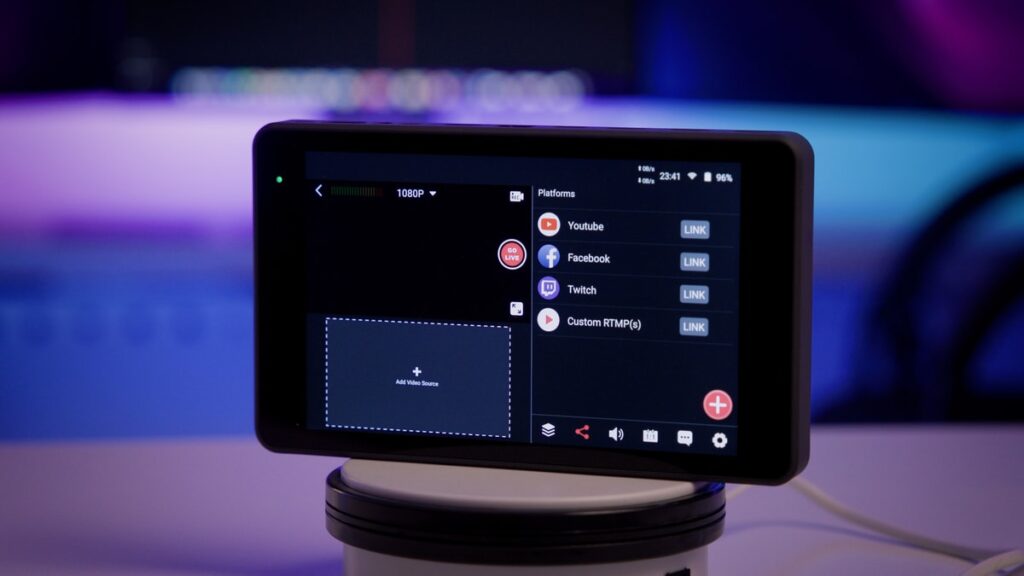 We even tested it out when the music in the live event was playing really loud and we could hear each other very comfortably. In the first place I thought music would be a problem as there is some delay between headsets, but it was totally fine.
We also tested the range. Outside even without line of sight, we got about 300 meters without any interruptions. It's really impressive.
Though if you use it indoors and there are a few concrete walls between headsets, then you can count on about 50 meters. Still it's not bad at all.
Also as you know it's a digital wireless device which means if you even far away from each other like 300 meters you will still have a great sound quality.
The battery life is also impressive for such a small and light battery. We used Solidcom C1 in different shooting scenarios including indoor/outdoor and we got a solid 8 hours without a problem.
The main headset works as a hub, where all other headsets connect to it. That's why the main unit gets about 6-7 hours of battery life.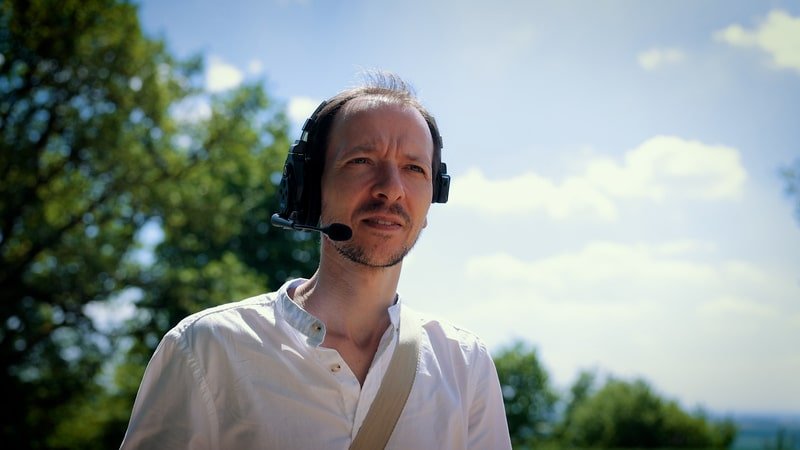 I think with one or maximum two batteries for each intercom headset you can get throughout the day without any problem.
By the way you get 8 batteries in the box if you choose 4 headsets option, which is perfect for any scenerius.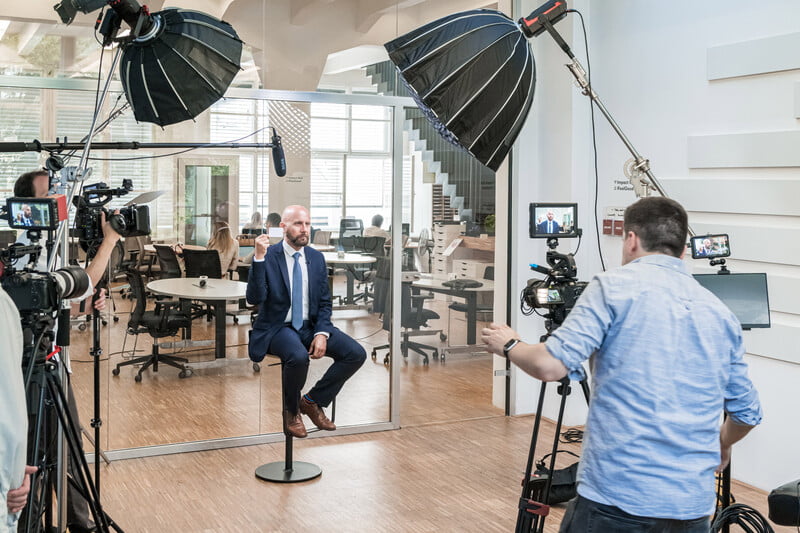 What about the cons of this wireless intercom?
Honestly after using it for 3 months, we had zero issues with these intercom units. They worked perfectly without any disconnections except when we had a few walls between us.
Maybe only one small issue is the green light near the microphone. When you're in a dark environment, that light may glow directly into your eyes and it can be annoying sometimes.
If you turn the mic to the side a little, it might help to eliminate that. Otherwise maybe it can be helpful to see your crew members' faces in the dark.
Conclusion
If you're looking for a wireless intercom device for your production and you want to be connected with your camera crew members all the time without any disconnections, then Hollyland Solidcom C1 is perfect for you.
We as a camera crew really enjoyed using this wireless intercom in our shootings for the last couple of months and we look forward to using it more in our live stream events or any other shootings in the future.
Therefore we highly recommend this device.