My name is Otto Beck and I'm a cinematographer and producer at HayotFilms – video production based in Prague, Czech Republic. We have 10 years of experience in creating corporate videos, promos and commercials. We have been producing many corporate videos for big brands like Amazon, Microsoft, Nestle, HP, IKEA and many others.
Recently I decided to create a blog post about our corporate interview setup and write about our cameras/lights, which will help you to film your interviews properly.
If you don't want to read the whole 1500 words blog post, then you can simply watch our YouTube video down below, which was published in Canon Europe YouTube channel.
Let's start with our cameras.
Last year we upgraded from Canon EOS C200 and Canon EOS R combo to the Canon EOS C70 and Canon EOS R5 and we are really happy with these cameras.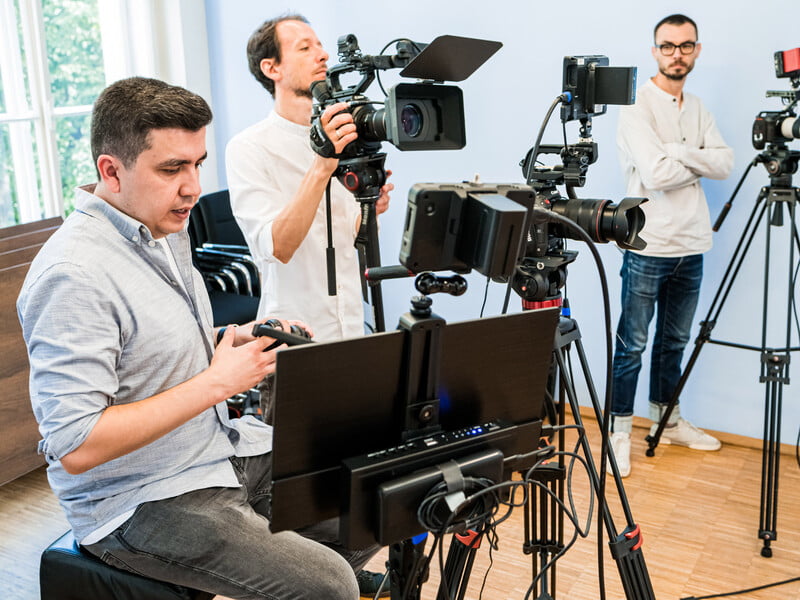 They produce very high quality 4K 10 bit videos and with the latest Canon Log 3 upgrade for Canon R5, it became much easier to match these cameras in post.
Using LOG is always a good option when you film with two different cameras.
First of all it gives you better dynamic range and usually when you apply official LUT in post, you have to tweak the colors, contrast and white balance slightly to match the cameras 100% and having C-LOG in this case helps a lot.
Let's talk about our C70 as the main A camera for this setup.
It's really great that the camera has an RF mount, which means you can use both EF and RF lenses if you need. Also it gives you a full frame equivalent image if you use EF lenses with the 0.71x Canon mount adapter.
It helps us a lot when we're shooting in tight spaces like offices, also it gives us an extra F stop, which is awesome when you're shooting inside to keep the ISO low.
We normally use the Canon EF 70-200mm IS lens with this adapter and it's a great sharp lens for close up shots. For this interview setup we're using Canon C70 with my favorite lens, the Canon RF 24-70 2.8 IS.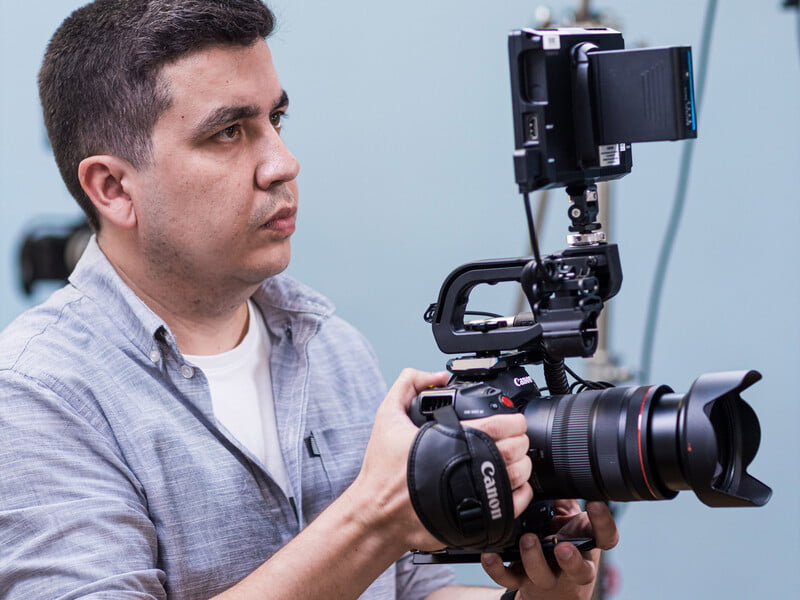 It's a very sharp lens with fast AF and 5 stop IS, which really helps to stabilize the shot while we're shooting BRolls handheld.
I like keeping it between 35-55mm at 2.8 in these kinds of interview setups, which gives you enough bokeh for the separation of the interviewer from the background.
We always shoot in 4K UHD XF-AVC in 10bit Canon Log 2 at 25 fps using Long Gop compression.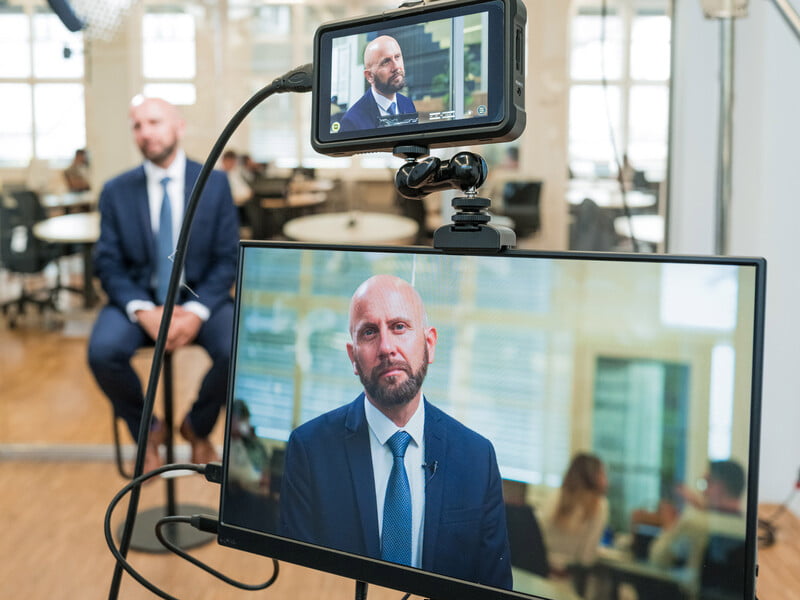 It gives you so much flexibility in post to play with – like cropping or reframing if you deliver the final video edit in FullHD. Also we connect our audio straight to the mini XLR inputs of the camera.
We always use two sources of audio like wireless lavalier and boom shotgun mic in our interviews, it gives you two options in post, because sometimes a lavalier might sound clearer in noisy locations and sometimes a shotgun mic sounds more natural or you can mix them both in post to get the best results.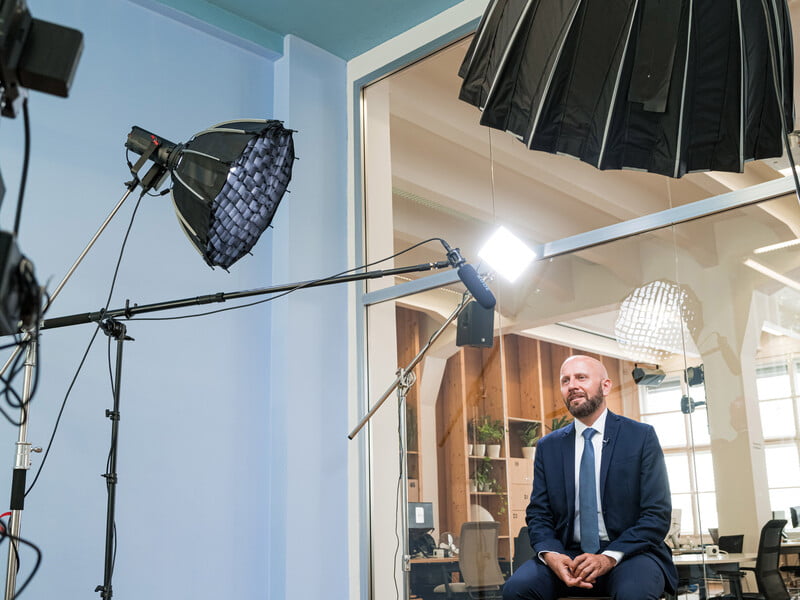 I also like that Canon C70 has backup third and fourth audio channels, where you can put audio level manually to -10db from your original channel, which always helps if the interviewer suddenly starts speaking very loudly or laughing, you can always use your backup channel in post in these situations.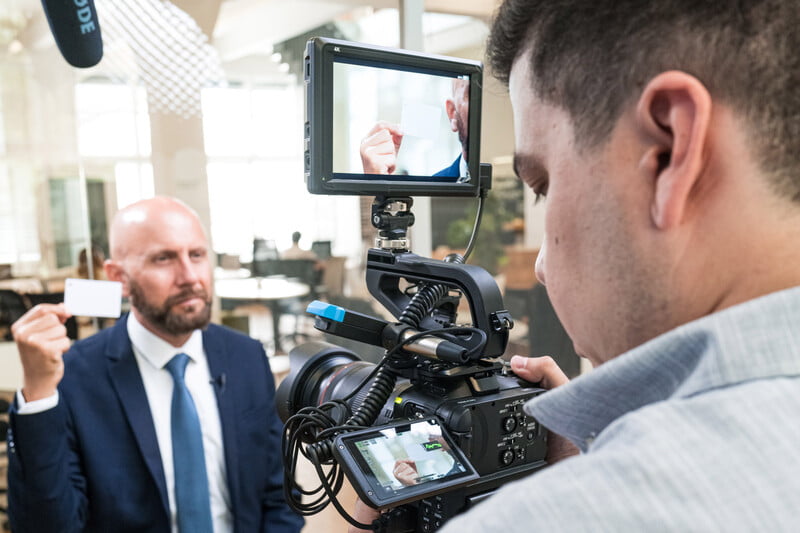 For proper white balance, we use these small white cards. You have to sit with this card in the interviewer's seat and hold it near your face, where normally all lights are directed.
After doing this, with the C70 we zoom in to this card and let the camera choose the right white balance. It really helps to get fast and proper white balance in a few seconds. We use the same white balance settings for our B camera, in this case Canon R5 and we found they match exactly almost all the time.
Also I want to quickly mention my favorite features of the Canon C70.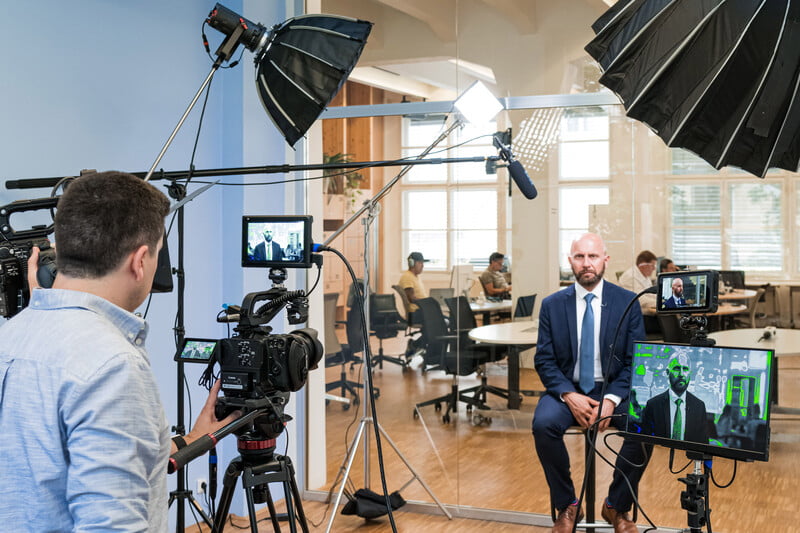 They are built in ND filters, variable lens options with the RF mount, both SD card recording for backup or proxy, assignable buttons, face only AutoFocus, which is really great in these kinds of interview setups and of course false color for proper exposure.
Now let's talk about our B camera.
It's a Canon EOS R5. This is a very powerful camera body with so many great video features. We use this camera as a B camera for interview setups and also as a gimbal camera with an amazing lens Canon RF 15-35mm F2.8 IS for our B-Rolls.
4K 120fps full frame in 10 Bit is a dream to shoot smooth B-Rolls with this camera. The recent firmware update, which gave us Canon Log 3, means now it's very easy to match with Canon C70 even if it was shot in Canon Log 2.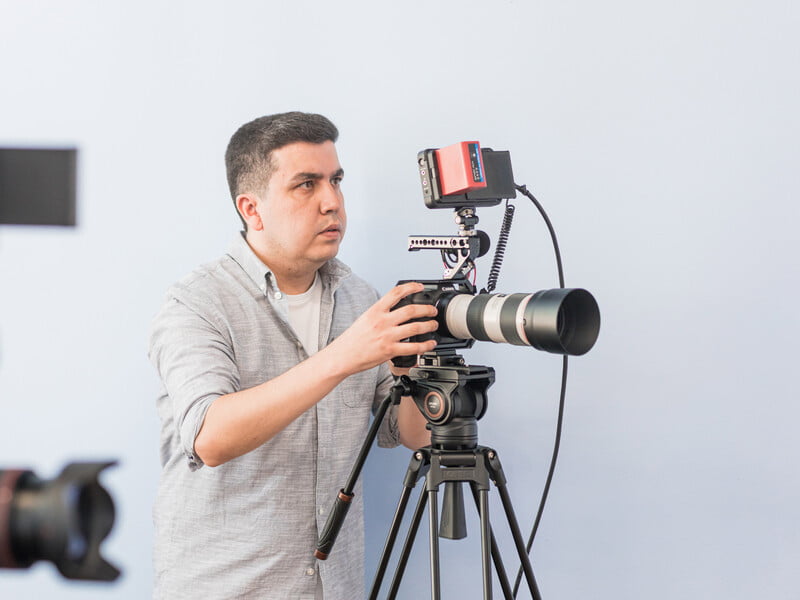 So in this interview setup, we're using Canon R5 with Canon EF 70-200 IS using an adapter for the close up shot.
Also we attached an external recorder, which gives us unlimited recording to our SSD and bigger screen for easy monitoring. At the same time I like recording internally, so we have our SD card inside the camera as a backup.
It's crucial to have two recording sources in case one of them fails. Our video settings are 4K 25fps Canon Log 3 IPB. We use IPB, because it helps us to keep file sizes small, because the interviews can be very long.
Also we're recording externally, so basically internal recording is for backup purposes and IPB is more than enough for this.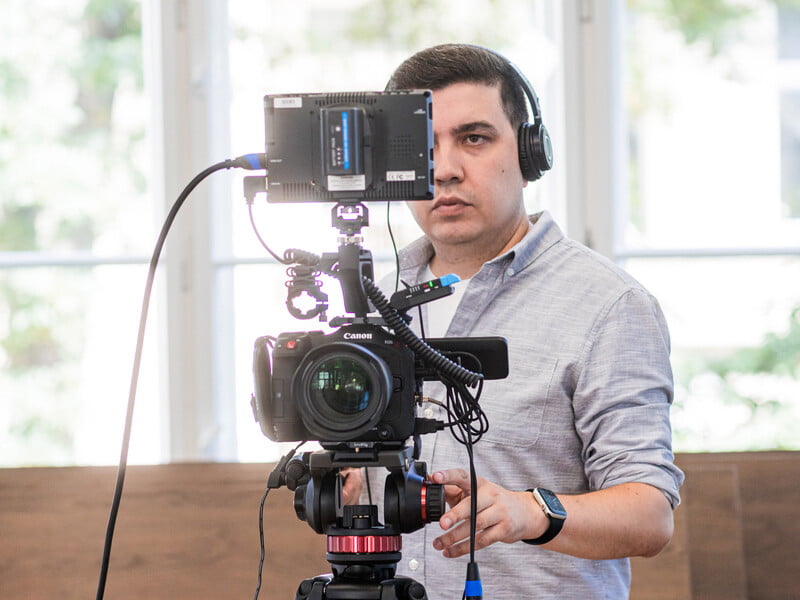 If the interior space lets you shoot in crop mode, I would suggest doing it, because 4K crop mode in R5 is oversampled from 5.1K, so it's sharper than normal 4K and it easily matches with C70 in terms of sharpness in this mode.
Now let's talk about our framing. Our C70 is in front of the interviewer at eye level and our lens Canon RF 24-70mm is at 50mm, so we won't cut his hands off in the frame.
We can ask him to move with his hands to make sure they are within the frame.
The person will be looking slightly right from our main camera; this means that our B camera will be on his left. So we put the Canon R5 with Canon 70-200mm at 100mm in crop mode.
The B camera has to be located more on the side of the interviewer, so when we cut to the B camera in the post, it will be at a different angle than our main camera.
We don't want the same angle as our C70, because as I mentioned before, we can always crop the shot when we need, but we can't change the angle in post. Keep this in mind.
After we are happy with our framing, we start positioning our lights. Important to turn off the lights of the location if it's possible to avoid the mixed color temperatures.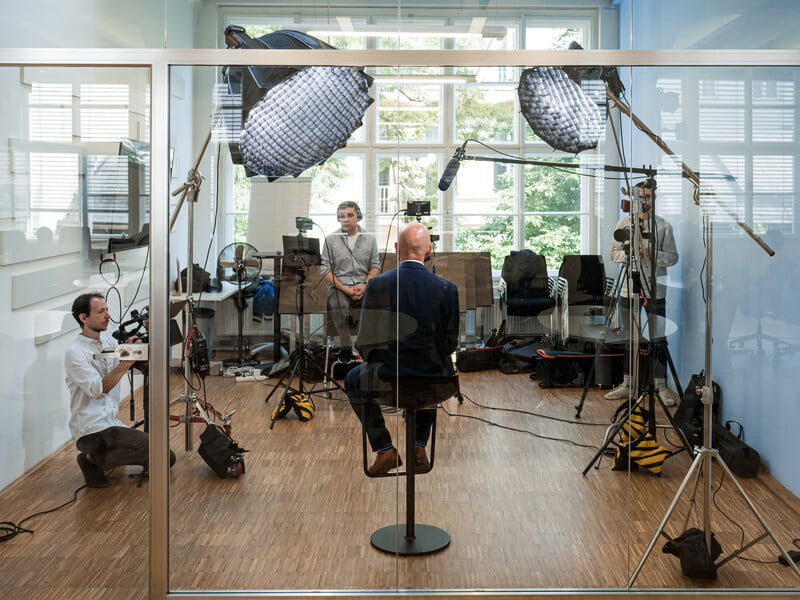 As always we start with our key light.
We use Aputure 300d Mark II COB light with the Light Dome II big softbox and put it as close as we can to our interviewer to get a soft light on his face. For this we're using a C-stand to get as close as we can.
It's important that our key light is on the other side from our B camera, so it means the fill light will be on the Canon R5 side. Depending on the location or mood, you can use a key light only with backlighting.
For the fill you can use a diffuser or we sometimes use LED Panels from Aputure with a softbox to fill the other side of the face if we need.
For the backlight or hair light we always use focusing LED light with the spot beam angle like Aputure 60d on a c- stand. These lights are great for controlling the spread and focus the light to the exact spot you need like the hair.
Corporate offices almost always have big windows. If you're shooting towards big windows and you want to keep the outdoor exposure under control, then I would suggest using ND gels for windows.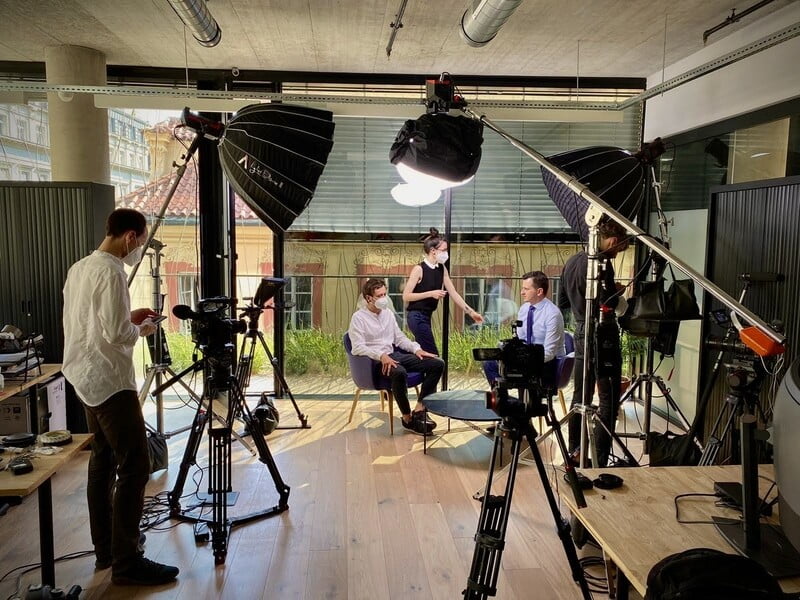 You can tape them on the windows, usually they have different strengths. It will help a lot and you don't need to use powerful lights to match the indoor and outdoor exposure and at the same time keep the sunlight under control.
Our last tip is very important. Put the person asking questions next to the camera. It's crucial to have someone at eye level, so the interviewer knows where to look while they're talking.
That's it.
I hope these tips help you to get better results when setting up interview videos in corporate environments.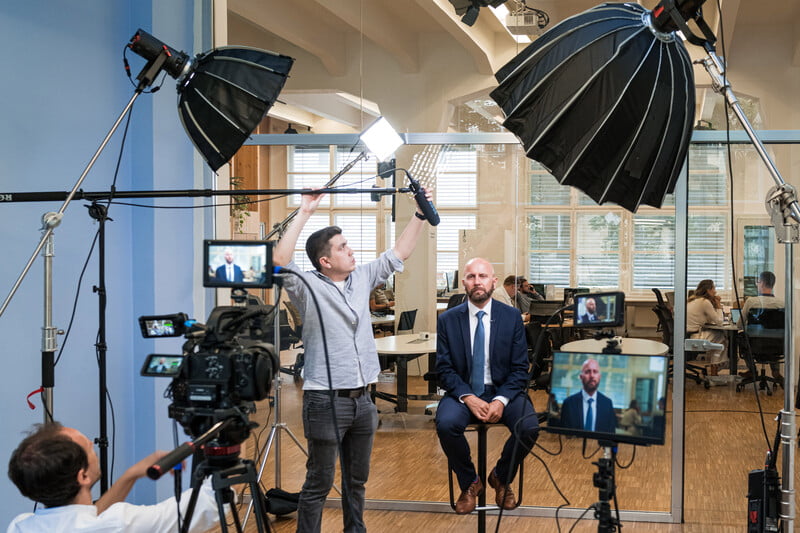 Thank you for reading and if you're looking for a video production in Prague, then don't forget to check out our website!