As a video production crew in Prague, we get many requests from our clients to shoot an interview video. It can be conference video interview for their promo video, testimonials about the company or event, corporate and TV broadcast interview videos. There's so many interesting things you can do with a promo video, if you put your mind to it!
Before I continue, I want to show you the video where I talk about our interview setup. Have a look here.
If you watched the video above, you already know what kind of equipment we use for our interviews. We don't use all our equipment for any interview videos, but we always try to choose the setup which suits for the project that we're planning to shoot. If it's a sit down and talk kind of interview for TV, corporate video, conference or promo video, then we use the setup mentioned in the video, which is:
Our main Camera: Canon C200 with fix or zoom lens
Our B camera: Canon EOS R for close up shots. It's really good B camera and it matches easily with our main camera.
Microphones: Lavalier Tascam or Sennheiser mics with BoomPole shotgun NTG-4 microphone
Lights: Aputure C120D Mark II with lightdoome II softbox, which gives really soft light
Aputure F7 LED light with small softbox
Neweer LED light panel Other:
Sometimes we use a motorized slider for B camera, so it gives you more dynamic motion to our videos.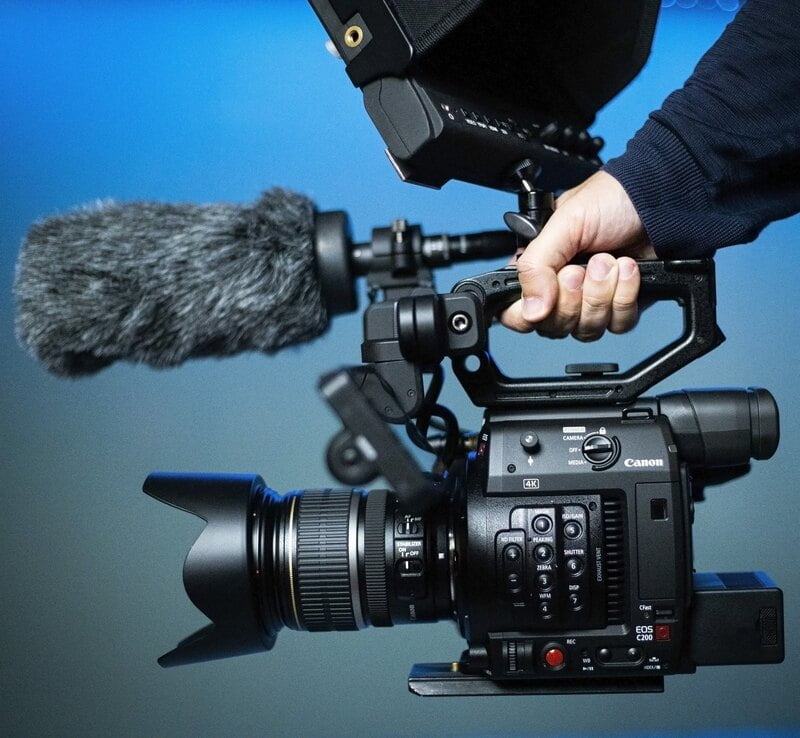 If you're planning to shoot more run and gun style interviews, I would suggest taking only the necessary equipment, so you will be more portable to walk around. In this case we use one camera with smaller lights like Aputure F7 and Neweer Led light panels. They are really good lights, because they have very accurate true daylight and you can power them with Sony NP batteries. That makes them excellent for using when we are walking around together.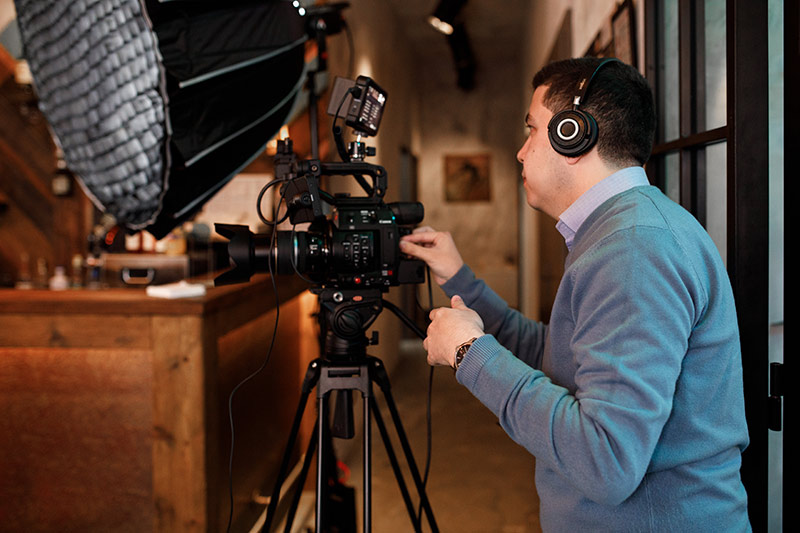 If you're planning the interview video, keep reading, I will give you some tips.
Setting up your camera for an interview
If you are using one camera, then you should look to try and get the camera in a neutral position where you can see both participants. Try and do the following:
Keep your camera far away enough from the participants that they can be seen clearly, without taking in an excess of their bodies.
Add in a neutral background that allows both participants to stand out. Try and use lighting to help add separation in the image.
Get rid of harsh lighting conditions by using a soft light; placing this in front of the participants will help to remove any excess lighting
Keep the cameras at eye level so that all subjects don't need to look up/down to meet the gaze of the camera.
If you want to get the best audio output, make sure you use a shotgun mic or a lapel mic set. This will help to promote the audio in an easily heard way.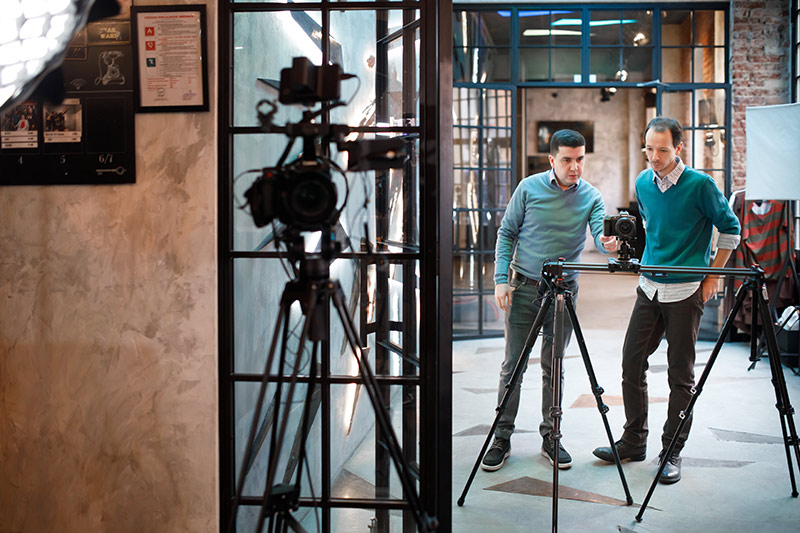 Why do I need a single camera?
There are many reasons why you should stick to a singular camera. These are normally the easiest interviews to edit as you only have one camera to pay attention to. You will have one video file and then one audio file: with multiple cameras, you have a lot more to take into account than you might have realized. With a singular camera, though, you only need to manage the cutting process once; this makes it easier for things like zooms, cuts, and pans to be edited in with simplicity.
However, if you do choose to go for using two cameras – perhaps for a longer interview – then you need to understand just how tricky this can be. It's not an easy thing to get right, and it often comes down to avoiding the following: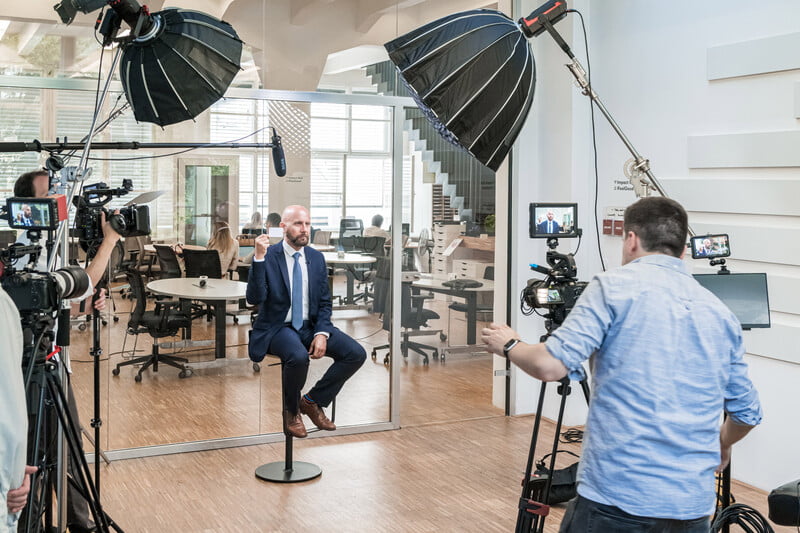 Make sure you have plenty of lighting – each interviewee and interviewer needs to have some proper lighting on them, as well as fill light.
Be sure to avoid any kind of shadows being formed by subjects or equipment during the shooting phase; it tends to look quite amateurish.
Always be sure to look around the area – what is in front of and behind your subjects? Try and use the best backdrop possible. Bland backdrops often produce poor results.
If you want to use two cameras, we would suggest using them when you are taking on scenes that need multiple video and audio needs. You'll have to be cutting back and forth from one shot to the next, which means getting a good blend of close-up, far-off, and normal shots. If you take your time with this, though, the results can be outstanding.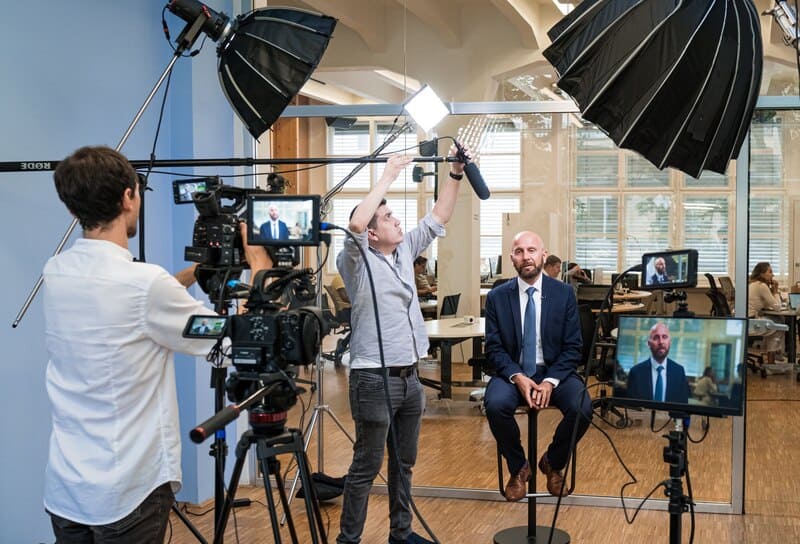 Two cameras are good when you are doing a major interview, or taking on a subject of considerable interest to the public.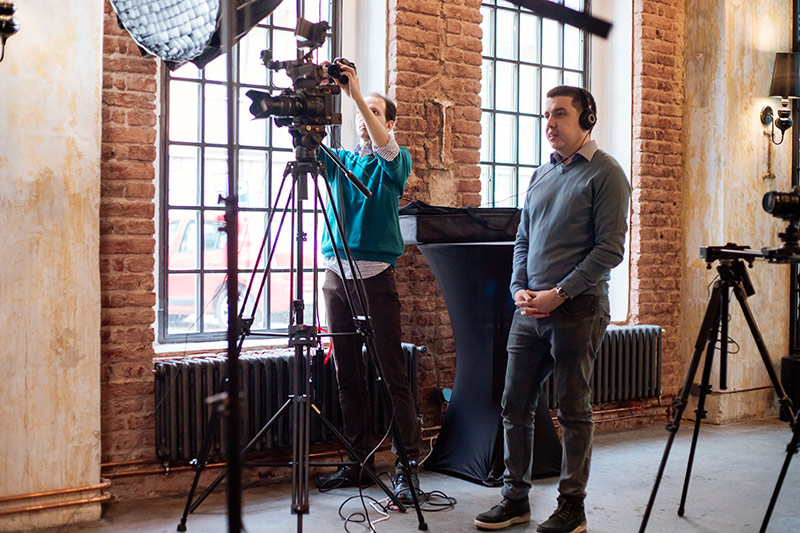 If you want to talk about something that is going to inspire, you should use two cameras. You should try and keep the interview as smooth as possible in terms of atmosphere. Do what you can to minimize the use of body language, and make sure that everyone involved knows where to look in terms of cameras and other participants.
If you intend on doing some video shooting in Prague, it can be interview, conference, event or corporate video, you should absolutely look to get in touch with us. As an experienced event videographers, we can help you to ensure that all interviews look and feel as comfortable as they should for all involved.