Nowadays, we are facing an uncontrolled pandemic that causes traveling complications around the world. This can get in the way of projects, both personal and professional.
We always try to deliver the best experience for our clients. That's because we're proud to announce a new service for our clients. This blog post about how to organise and monitor a shooting remotely as a client, when you cannot physically be in the shooting location.
Before you continue I would suggest watching our recent backstage video above, where we live streamed the shooting to our clients in the UK.
Interview or testimonial video
Let's say you're planning to shoot an interview or testimonial video in Prague and you want this video to be perfect. As a provider of services including video production in Prague, we offer very specific service, which will help you to monitor your shooting over the internet without leaving your office or home.
We use professional live stream equipment, which helps us to show to our clients what we're shooting live and adjust some shots or make any changes while we're on the set.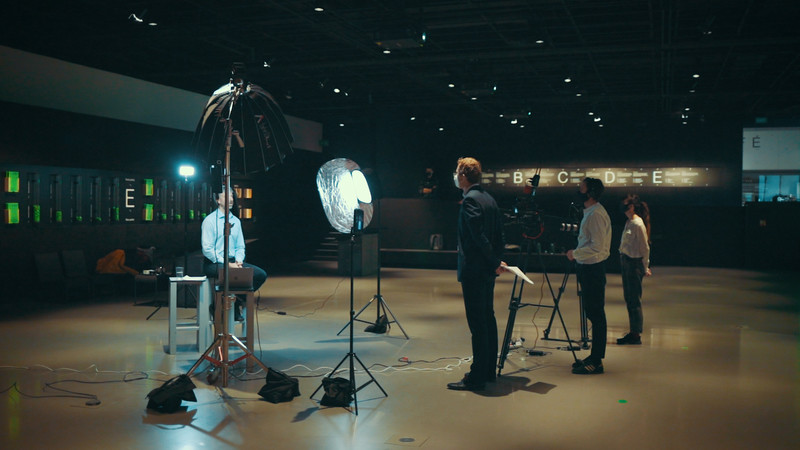 Here is how it looks like in the practise: We will set up a private live stream on Youtube or Zoom, where our clients can see each camera angle from different cameras and listen to the clear voice of the interviewer from a wireless lav mic.
Zoom Call for live stream
We also set up a Zoom (or similar) call, where our clients can watch the behind the scenes, talk to us while they're watching our private YouTube stream and make adjustments when they need. They can also ask questions straight from an interviewer and listen to the answers. 
As you can see on our backstage video above we're using two Canon C200 cameras; one is for shooting wide medium angles and the second is close up. We also use a Sennheiser wireless lav mic connected straight to the main camera's XLR connection. Both cameras have SDI output, so we connected these cameras to our live stream equipment Atem switcher using wireless video transmission systems from Hollyland.
We also set up a third camera view, where our clients can watch the behind the scenes.
Atem Switcher for our live stream setup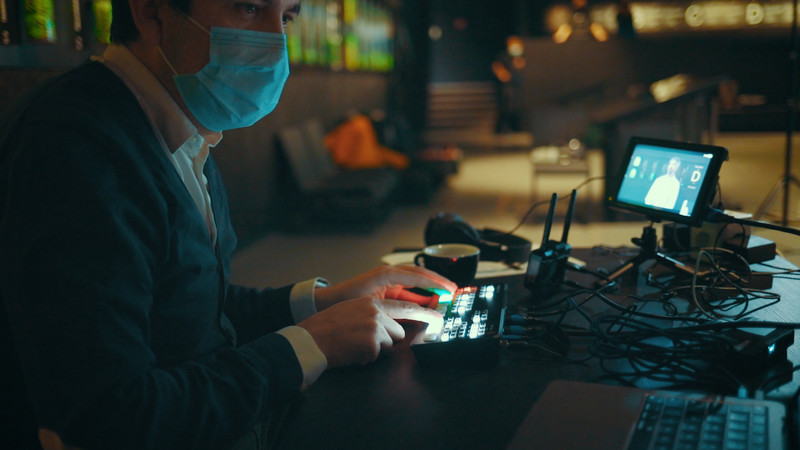 To control all our cameras, we use the Atem Mini switcher. This helps us to switch up to 4 cameras while we're recording and streaming videos to our private YouTube live stream or Zoom call, so our client can watch the feed from all cameras. Also, sometimes we shoot against a green screen and use a chroma key function to instantly composite the video over virtual sets.
We also connect a monitor to our Atem's HDMI out port, so our live stream editor can use a multiview function to monitor all our cameras and add titles if needed. Also, the Atem switcher automatically creates a ready Davinci Resolve project with all cameras synced and edited, so we can adjust our recorded video in post easily if needed and send the final video in the best quality to our client on the same day.
This helps to speed up the process and deliver the best possible professional end product.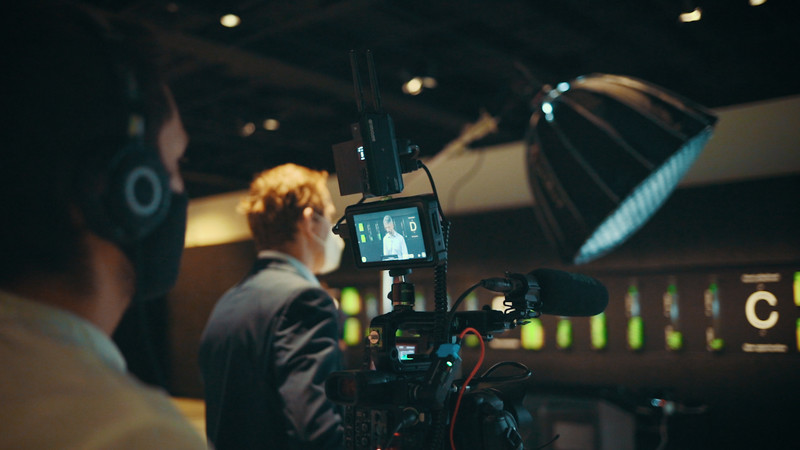 Also, with this setup we can live stream any kind of interviews, webinars, testimonials, case studies or similar videos to YouTube, Facebook or any other live stream platforms in high resolution with multiple camera setups.
This service will help our clients to achieve the best results and get high quality videos remotely without visiting Czech Republic. So, while it might feel like we have to put an end to creative projects, technology allows us to find workarounds to even the most confusing and challenging times in modern history! Great, huh?