Did you know that Prague is also known as the "City of a Hundred Spires"?
Indeed, the beautiful city really has a lot to offer. From its mind-blowing attractions to its magnificent experience that will definitely stay in your memory for a lifetime, to its historical place—yup, Prague has it all.
As they said, it is impossible to get bored here.
I mean, who would not want to experience delicious cafes and take photos of unique museums, right? Some of your all-time favorite famous movies are even shot in Prague!
Location-wise, Prague is really a great choice to travel to. But did you know that Prague can offer the best conference venues and meeting rooms as well?
You read that right.
In this guide, we at HayotFilms will be sharing with you the best locations to hold a conference venue for 2023! We shoot corporate events at different levels including live streams. With our experience, our team knows the best places you can look into.
And we will generously share these great locations with you right now.
So, if you're having a conference meeting soon and you're looking at spaces you can use, check out our list below of the best ones we have in Prague. From business centers and hotels, to even the most unique meeting venues you never thought even existed, it's on our list.
Let us help you choose where your next meeting room will be.
Conference Venue (s): Businesses
#1 Prague Congress Centre
Total Capacity: 9,300 people | Address: 5. května 1640/65, 140 21 Praha 4-Nusle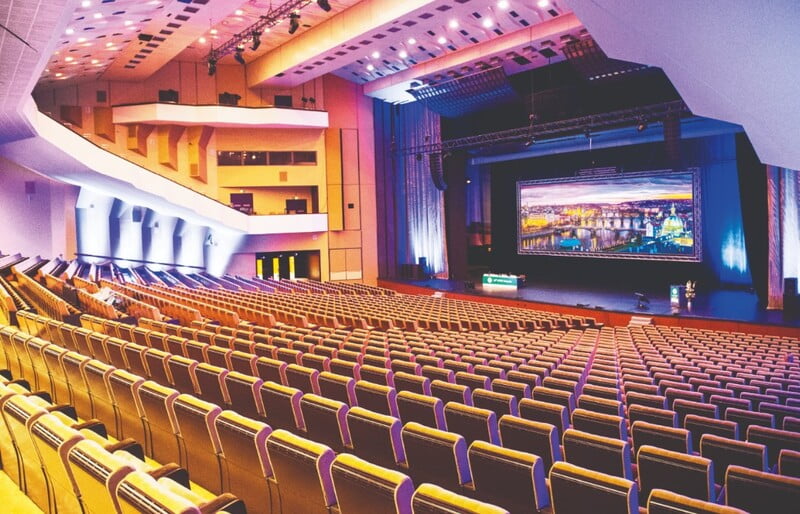 Hailed as one of the biggest and best-equipped congress centers in Europe, the Prague congress centre is definitely a terrific choice for conference meetings.
It has diverse spaces that could cater to all kinds of events. There are 70 halls and rooms that you can choose from, too.
The biggest hall is Congress Hall. It has a maximum capacity of 2,764 people and is mostly used for musicals, festivals, congresses, and concerts. It is also among the most noteworthy European conference centers since it offers a great view of the city and its prominent historical landmarks.
And of course, your conference meeting would definitely be more than welcome here. You can inquire on their contact form for more information.
#2 Expolab Prague
Total Capacity: Up to 3,800 people | Address: Výstaviště, 170 00 Praha 7-Bubeneč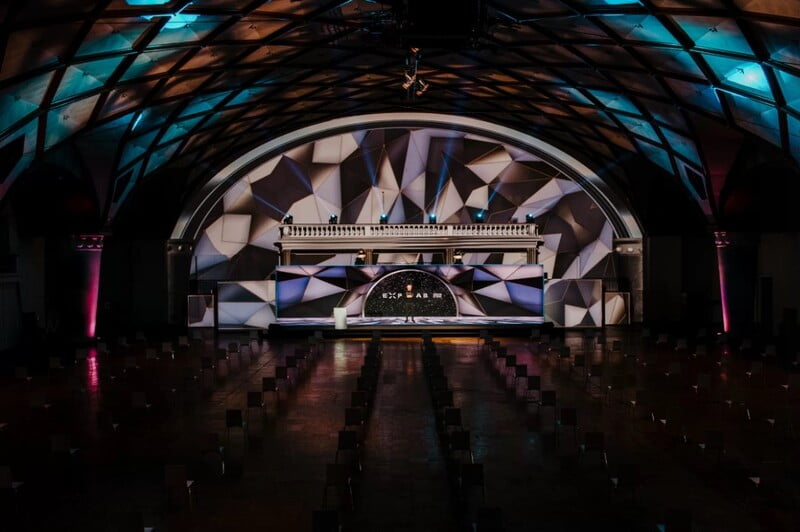 If you want a modern vibe to your conference venue, then you have to check out Expolab. It is known to offer the most versatile multifunctional room in the Czech Republic. Now, isn't that interesting enough to go look at?
It offers an exceptional environment with one of the most high-tech types of equipment. It's mostly used for hybrid events, conferences, and fairs. It will be an awesome venue for conference and event production.
It is also located in Prague Exhibition Centre which makes it easily accessible by car or even public transport. And you don't even have to worry about where to park your car because Expolab offers a lot of parking spaces for its guests.
The Industrial Palace offers up to 600 people on site, while the Křižík's pavilions can cater to smaller events of 200 people.
There is also an outdoor area called Křižík's fountain (covered with a roof) that accommodates 3,800 participants.
For inquiries, you may email Aleš Kalný at ales.kalny@expolab.cz or Julie Schwenková at julie.schwenkova@expolab.cz.
#3 Congress Center Vavruška
Total Capacity: 350 people | Address: Karlovo nám. 317, 120 00 Nové Město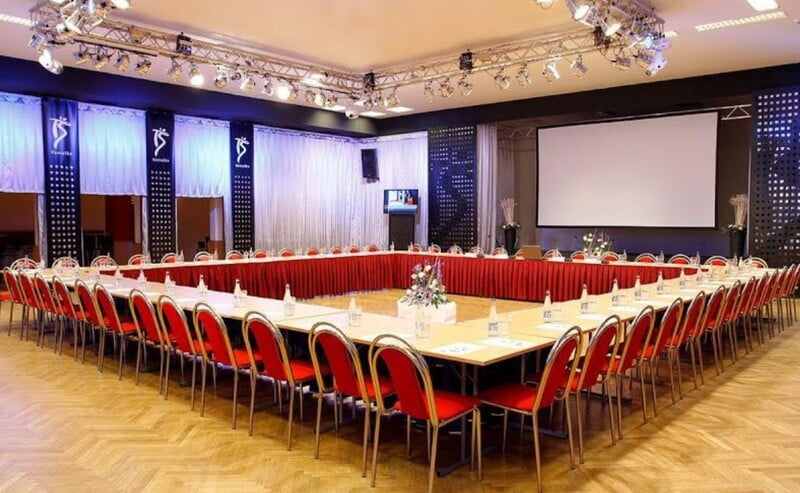 This conference center is located inside the Caritas Palace. It's also a significant conference venue in Prague that was opened in 2016.
Location-wise, it's very ideal and central. It is directly on Charles square which is one of the biggest squares in Prague with easy access to all the public transportation in the city. And not only that—because Wenceslas Square is also approximately 8 minutes away, too.
This conference venue has two banquet halls that can accommodate 350 people. Although, the exact capacity varies depending on the furniture being used.
Below are some of its typical clients:
Education and training companies
Banks
Insurance companies
Ministries
Government institutions
Non-profit sectors
Private companies
You may submit an inquiry here for more details.
#4 PVA Expo Prague
Total Capacity: 8,826 people | Address: Beranových 667, 199 00 Praha 9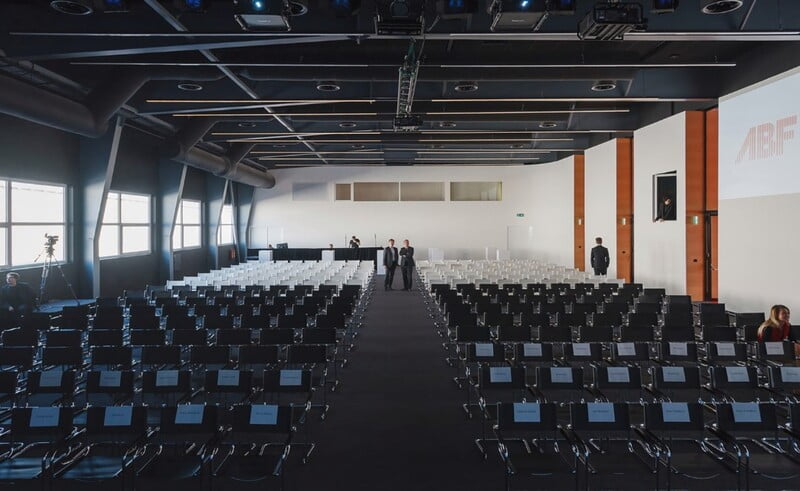 Did you know that PVA Expo Prague covers a total area of 105 thousand square meters?
Yup, it consists of 7 halls that make up the 35,000 square meters of the conference venue, while the remaining are for its outdoor spaces. Their most recent halls were built just around 2006.
Worrying about parking? No need. Because they also have 3,000 parking spaces available on their premises.
It is also easily accessible almost everywhere. It is close to the Letňany airport, too. Their halls are also available for short-term and long-term rentals.
You can contact their sales department at info@pvaexpo.cz.
#5 Konferenční Centrum City
Total Capacity: 480 people | Address: Na Strži 1702/65, 140 00 Praha 4-Nusle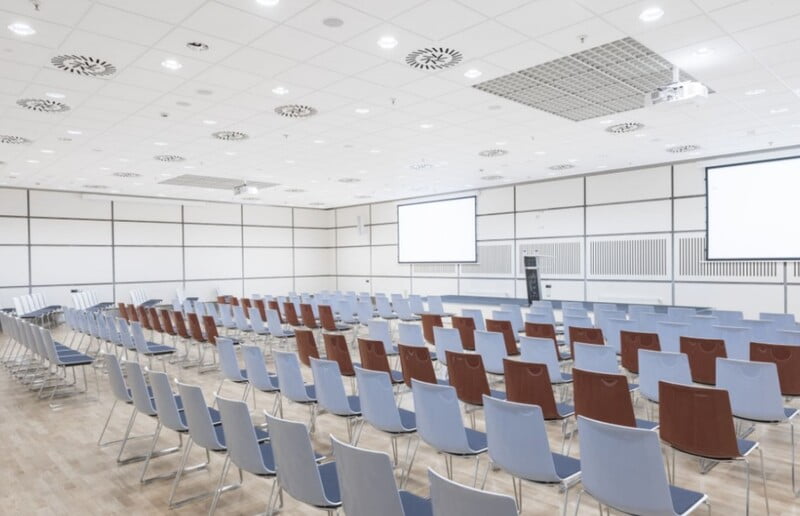 Konferenční Centrum City is also an interesting one that you shouldn't miss. It is located right next to the Pankrác metro station and the Arkády center.
This conference venue has 3 separate halls that can be divided into 5 sections. It also has a restaurant with a capacity of 360 people.
KCC usually organizes congresses, training, auctions, exhibitions, social events, corporate interviews, and of course, conferences and meetings.
Some of their facilities include having its own foyer for every hall, a fast and reliable Wi-Fi connection, and an air conditioning system in all halls and rooms.
You may visit their website to contact them but if you want to have a quick contact, you can email their events coordinator, Eva Rážová, at razova@kc-city.cz.
#6 Cubex Centrum Praha
Total Capacity: 1,700 people | Address: Na Strži 2097/63, 140 00 Prague 4-Nusle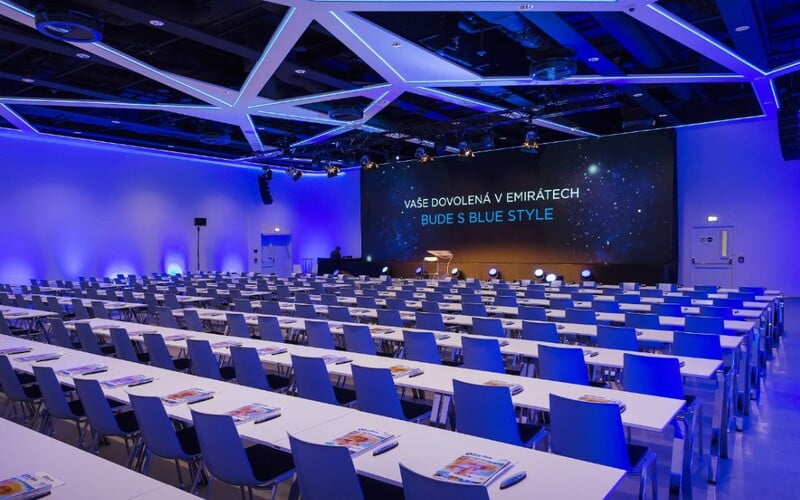 Cubex Centrum Praha is also another conference venue that offers a very modern design, best for hybrid events.
In this meeting room, you can even have a live meeting with a virtual environment for those that couldn't make it physically—which is an excellent tool, especially during the recent pandemic.
It also has exquisite designer furniture. Yup, their conference tables, and chairs have the Red Dot Award for their exceptional design! And it's not just the design, the comfort is also another thing that makes it more appealing for conference meetings.
It offers up to 2 bars, 4 foyers, and 8 sections.
For further information, please email rezervace@cubexcentrum.cz.
#7 Greenpoint Conference Venue
Total Capacity: Up to 200 people | Address: Dvouletky 529, 100 00 Strašnice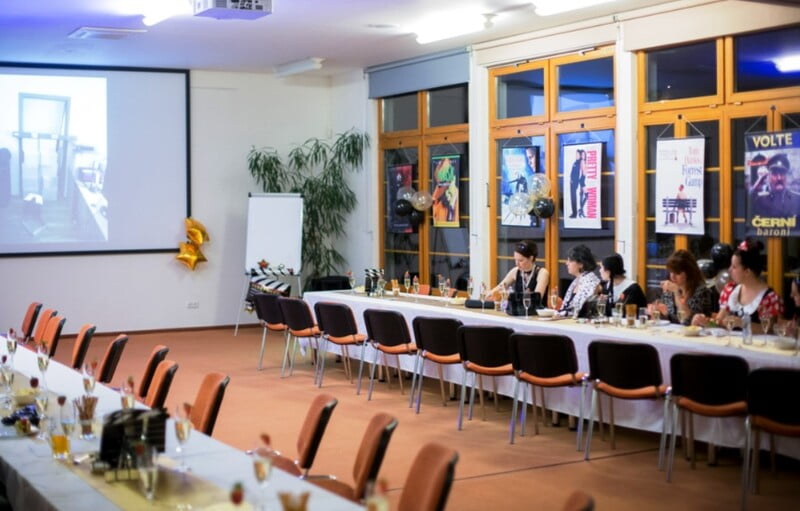 This conference venue is best for smaller groups of participants of up to 200 people. It's best used for corporate events, hence, it is easily a great choice for your meeting venue.
Companies love to book with them because of their great accessibility with parking, professional audio technology, and a huge selection of food and drinks. If you check their website, you can even see a virtual tour of what you'd expect to see in person. 
Their atmosphere is very business-like, but it can also transition to entertainment and even refreshments.
For relaxation, they have a terrace for beer sessions and also a garden for some barbecue time. If you book with them, expect to experience more than just a conference meeting.
Reach out to them at info@kc-greenpoint.cz.
Conference Venue (s): Hotels
#8 Hilton Prague
Total Capacity: 700 people | Address: Pobrežní 311/1 Prague, 186 00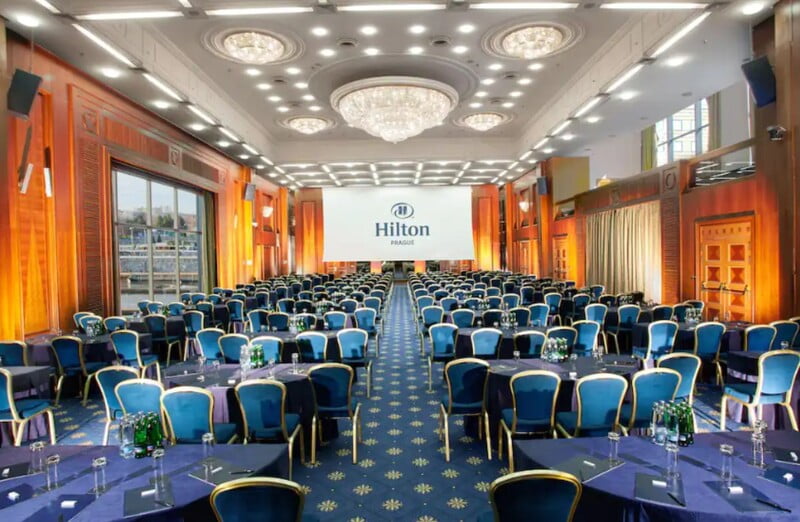 Hilton is a famous hotel chain and of course, they have one in Prague, too.
And as expected, it offers wonderful features such as a sauna, steam room, and pool, as well as six high-class restaurants that you can choose from. One of the restaurants even has panoramic views of the city.
When it comes to their conference venue, Hilton Prague offers flexible choices for any kind of event and meeting according to their guests' needs.
They have 38 meeting rooms available, and their largest room set up is 1,178 square meters.
You may fill out their contact form for reservations and questions.
#9 Holiday Inn Prague
Total Capacity: Up to 200 people | Address: Na Pankraci 15/1684, Prague 4, 140 00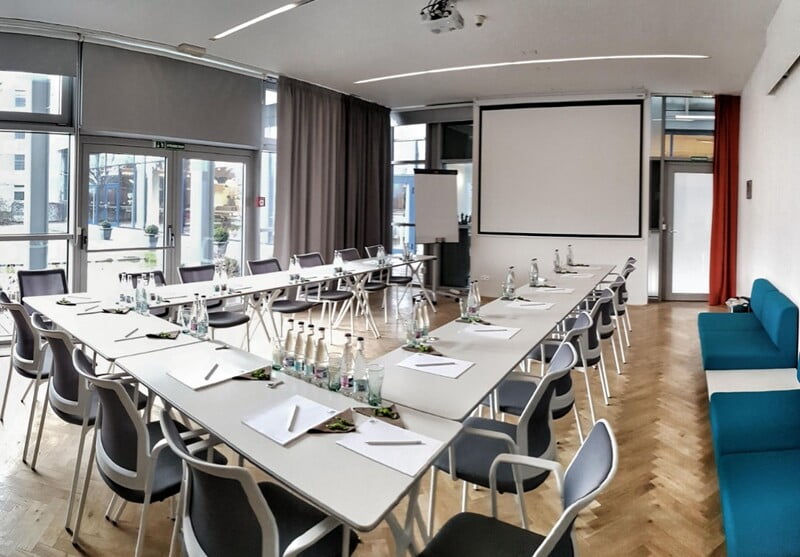 Another promising hotel in Prague is the Holiday Inn of the IHG hotel group.
This hotel offers an excellent, city-centre location with great conference facilities that fit your needs. It also holds a large-capacity garage which makes it even more ideal.
They have a total of 5 conference rooms with Wi-Fi access and are all fully airconditioned. The total area is 300 square meetings, and it also includes a foyer. Their largest conference room is styled similarly to that of a theatre and can accommodate 120 guests.
If you are up for some non-traditional conference rooms, Holiday Inn also offers that. Just contact them at info@holidayinn.cz to make a request.
#10 Hermitage Hotel Prague
Total Capacity: 275 people | Address: Svobodova Street 1, 128 00 Nové Město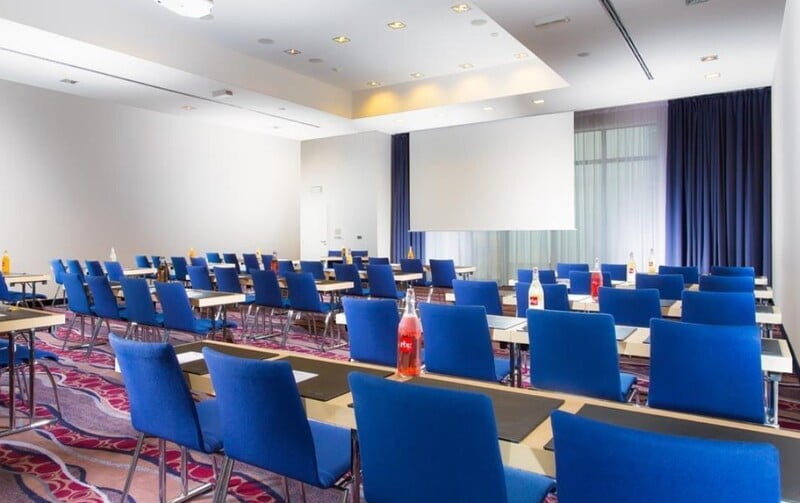 If you want to hold your conference meeting in an elegant building with high ceilings, you should check out Hermitage hotel. It is also great for corporate interview setups.
By booking with Hermitage Hotel, you can experience the special ambiance of a former printing house. It was also originally built in 1907! It will definitely be a great experience for you and your team if you choose to conduct your meetings here.
It's also close to the Vltava River and Vysehrad Castle. And is 18 kilometers away from Vaclav Havel Airport.
Interested? Shoot them an email at info@hermitageprague.com.
#11 Art Nouveau Palace Hotel
Total Capacity: Up to 200 people | Address: Panská 897/12, 110 00 Nové Město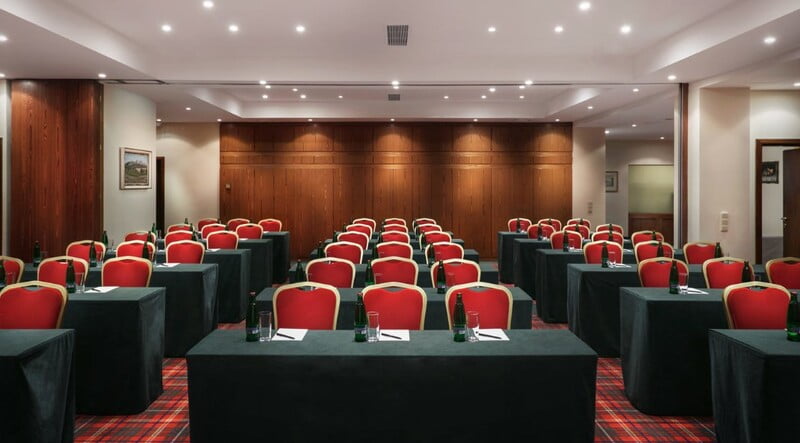 The splendid Art Nouveau Palace hotel is another great choice because it is offering elegant accommodations and a distinctive experience to its guests. This palace has also been in service is 1909. Just imagine the authenticity and the trust of its loyal guests.
It is located on the border of the New and Old Town. And it has specifically been designed for its business guests and also its leisure guests.
You can choose from different private rooms and also a convention hall. It can accommodate up to 200 attendees which private parking.
Go ahead and email them at info@palacehotel.cz for more information and availability.
#12 Prague Marriott Hotel
Total Capacity: 650 people | Address: V Celnici 8, 110 00 Nové Město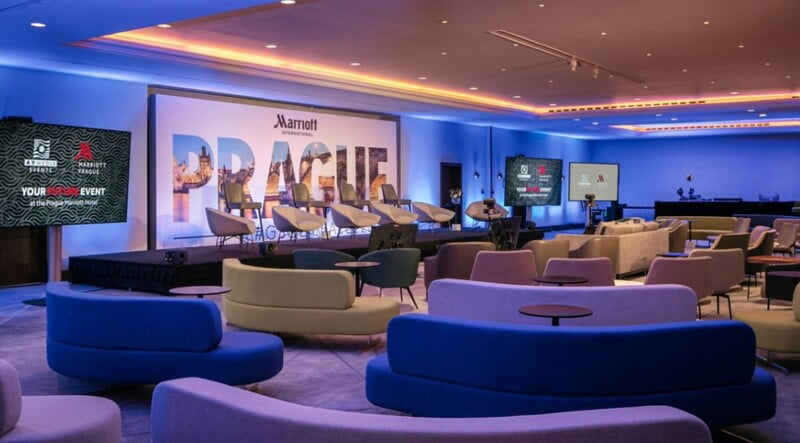 If you want a conference venue that promises an unforgettable experience, then you have to try Prague Marriot Hotel. It is known for its modem facilities and great customer service.
I mean, who wouldn't want to be serviced right? Everyone likes great service!
They have newly redecorated function rooms best for corporate events and businesses. Aside from their advanced technology, you can also expect great food from Marriott to top off your corporate event's overall experience.
You can also easily explore Old Town Prague as Marriott is very close to it. Agreeably a great spot if you want to see the best of Prague.
For more information, you may directly contact them at +420 222-888 888.
#13 Novotel Praha Wenceslas Square
Total Capacity: 190 people | Address: Kateřinská 38, 120 00 Nové Město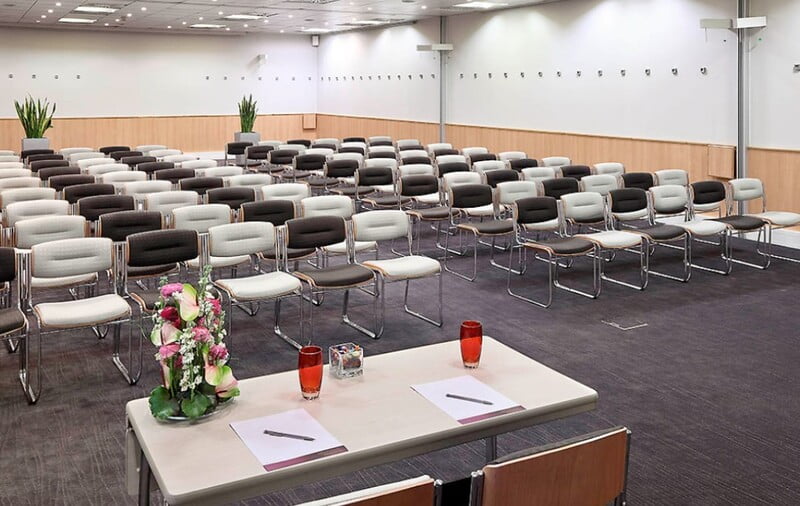 This hotel is also a great conference venue because of its location. It is located in the heart of Prague. Yup, the city center.
As per their conference rooms, they have 4 meeting rooms that are fully equipped with the amenities needed for a business corporate event. Air conditioning and Wi-Fi are consistent in their function rooms so you wouldn't have to deal with any problems once you are booked.
Get in touch with them at H3194@accor.com.
#14 Grandium Hotel Prague
Total Capacity: 311 people | Address: Politických vězňů 913/12, 110 00 Nové Město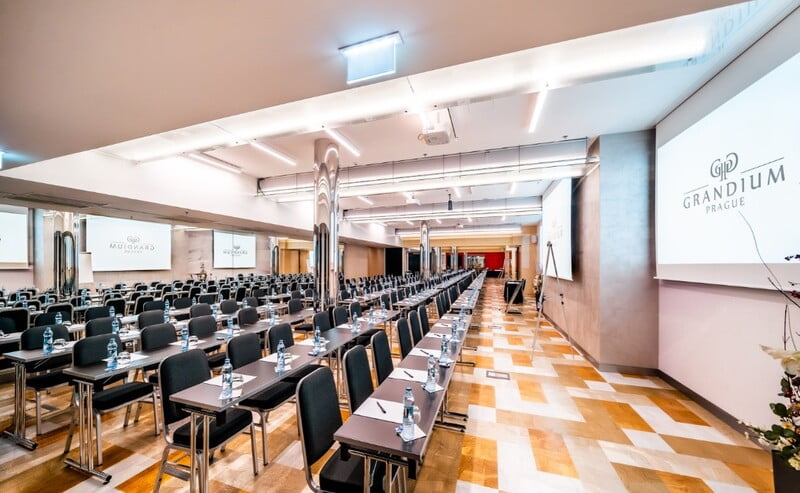 Also located in the heart of Prague is Grandium Hotel.
By their name itself, expect a grand hotel experience when you book your corporate event in this hotel. I mean, look at that. Just wow.
Their conference facilities are also modern and versatile. Absolutely a perfect choice to host your events whether it's for business or for pleasure.
Their staff is also very friendly and approachable so you wouldn't have to worry about not being taken care of accordingly. According to Grandium hotel, success and productivity are their goals for your event.
Their event rooms are theater-style and are named after planets such as Mars, Jupiter, and Saturn. Contact them at micesales@le-hotels.cz or +420 211 159 851 to experience their grand service.
Conference Venue (s): Unique Locations
#15 Zofin Palace in Prague
Total Capacity: 800 people | Address: Palác Žofín, Slovanský ostrov 226, 110 00 Praha 1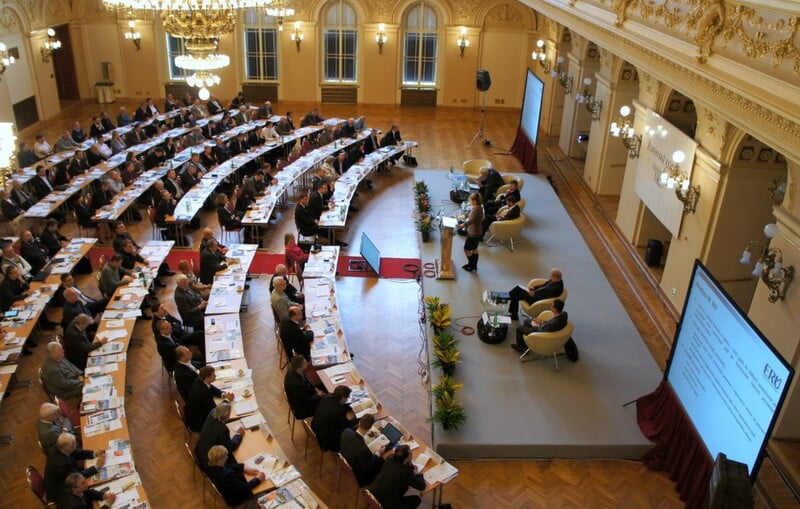 How about a building style following the 19th century? If you're a history lover, then you can opt to hold your conference in the majestic Zofin Palace in Prague.
This palace, which opened in 1937, is a famous venue for business conferences, exhibitions, and concerts.
As you can see, the elegant look of the palace makes it an easy choice for company galas, dinners, and balls, too. Its interiors come with barrier-free wheelchair access, air conditioning, heating, Wi-Fi, lighting, and sound systems.
Since Zofin Palace is very picturesque, we recommend reviewing these common filmmaker mistakes before pushing through with your event here to make sure all your shots are on point.
So yup, if you are a company that wishes to hold a grand and memorable event that will surely be the talk of the guests after the event, then reach out to petr.denk@zofin.cz to inquire.
#16 Prague Park Tower (Žižkov Park Tower)
Total Capacity: 150 people| Address: Mahlerovy sady 1, 130 00 Praha 3-Žižkov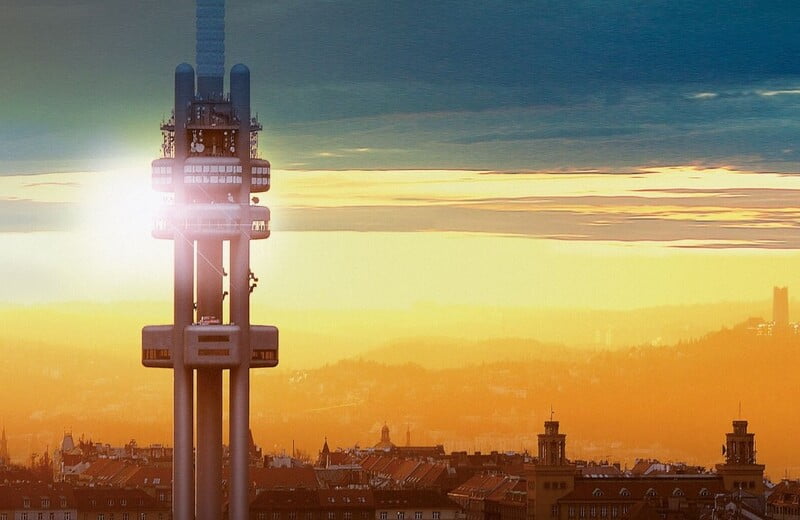 If you want something very unique such as being high up in the sky, then you can try Žižkov Park Tower or Prague Park Tower.
This actually holds the highest viewing point in Prague, as well as in the whole country of the Czech Republic. You can see Prague as a whole right in front of your very eyes with its 360° view.
From 2011 to 2012, it had a complete interior refurbishment. There are a total of 3 function rooms in this tower. A buffet is also available which makes it more interesting.
Need an extension for receptions? There is also an outdoor garden!
If any of the features above fits your liking, then info@towerpark.cz is the email to start inquiring about this bizarre tower.
PS: Make sure to bring your camera.
#17 Prague Carlo IV
Total Capacity: 350 people | Address: Senovážné nám. 13, 110 00 Nové Město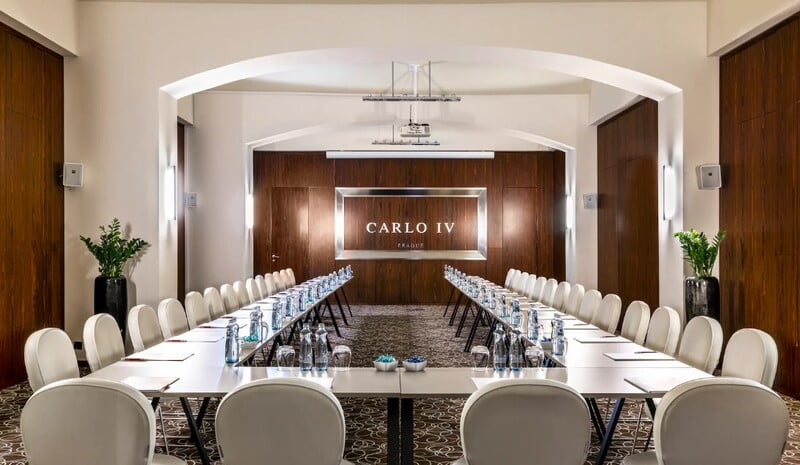 This is also a Neo-Renaissance palace similar to that of Zofin Palace. If you want your conference venue to be in a 5-star luxury hotel, then this is the way to go.
Hotel NH Collection Prague Carlo IV has 7 flexible halls in total. It could cater to any of your conference or event needs. If can accommodate a private conference for only 16 people and it could expand to bigger meetings of up to 350 people.
Setting up video interviews? They can help you with that, too.
The current historic vibe of the building is because of its past. It was originally constructed in the 1890s as Czech Mortgage Bank. If you observe carefully, you can notice the metal reliefs that describe the coin system history of the Czech Republic. The building also became the headquarters of the Czech Postal Service in the past.
After all the negligence that had happened in the past, it is now one of Prague's pride for its overall facilities.
If interested, you may reach them at nhcollectionpraguecarloiv@nh-hotels.com or call them at +420 224 593 111.
#18 Clementinum (Klementinum)
Total Capacity: 200 people | Address: Mariánské nám. 5, 110 00 Staré Město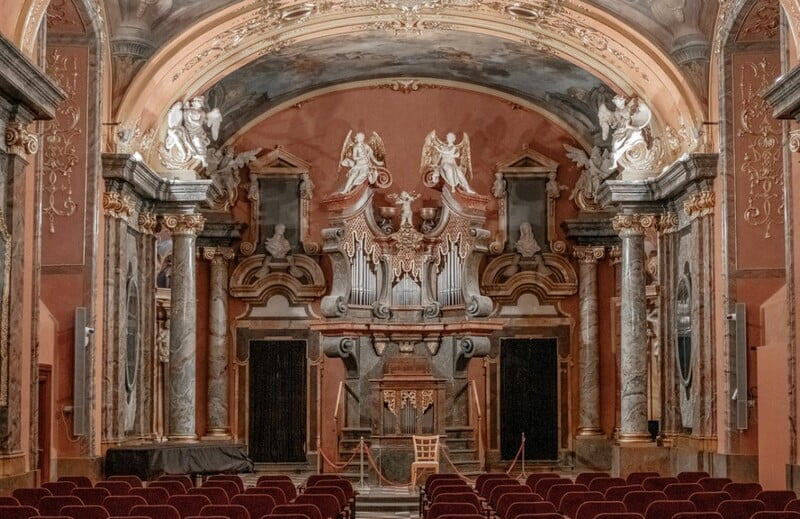 What makes Clementinum interesting? Well, it is just the second biggest complex of buildings in Prague after Prague Castle. It is also one of the biggest in Europe and has always been a center of culture and education.
It holds the National Library where you can discover many valuable scripts and books. This Baroque library is actually held as the world's most beautiful library!
And not only that, but you can also see the Mirror Chapel there—which usually hosts classical music.
If you choose this as your conference venue, expect a capacity of up to 200 guests. Also, expect that your attendees will have a great time and unforgettable experience just by being in this beautiful landmark.
How about the location? No worries. It's very central as well.
Reach them at klementinum@dreyer.cz or you can answer their contact form for more information.
#19 Vozovna Střešovice (The Tram Depot)
Total Capacity: 800 people | Address: 130 00 Praha 3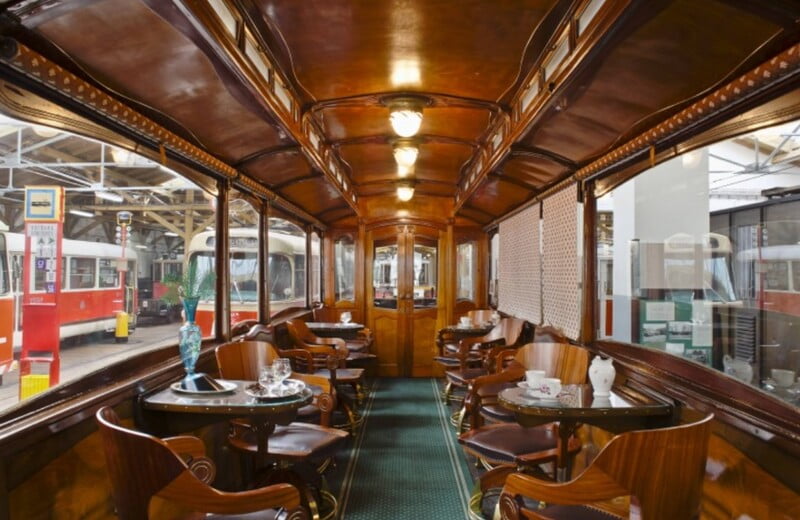 If you want to stay away from grandiose palaces and luxurious venues, but still have a unique feel for your attendees, then the Tram Depot might be what you are looking for.
The Tram Depot holds a collection of artifacts in its museum. It shows the history of the urban mass transit in Prague. And no, you don't have to be a transportation enthusiast to appreciate it. It's already stunning the way it is.
Even though it was declared a historical landmark in 1991, this museum also accepts private bookings for events—so you can definitely conduct your conference meeting here.
Similar to most function halls, its interiors adjust according to what the event needs. Whether you are only 80, or even 800, there is the right hall for your meeting needs. You also don't need to worry about food, facilities, and customer service because they have it all ready for you.
Learn more about them by emailing info@pragueeventery.com or by filling out their form.
#20 Prague Boats Conference Venue
Total Capacity: 40-250 people | Address: Dvořákovo nábř., 110 00 Josefov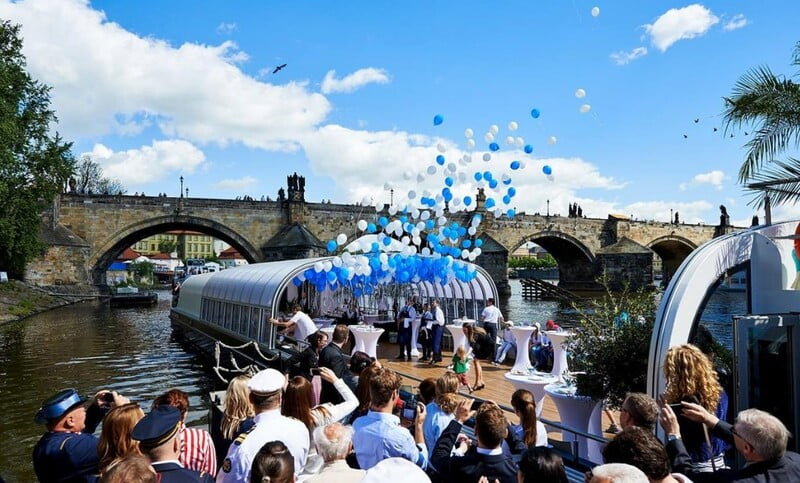 Prague has many attractions. Some of the amazing Bollywood movies were even shot in Prague.
One of the city's most sought-after attractions is its Riverboat tours. But did you know that you can also hold your event here?
Yup. On a boat.
Now, isn't that cool?
Prague boats serve as your next unique conference venue which your guests will surely appreciate. The boats are in the Vltava river, which is the longest river in the Czech Republic.
These Prague boats are common for tourists, but not a lot of people know that you can also hire these boats for your conference meetings and corporate events. In fact, their services have been running for a long time already.
And even though they're on a boat, they still provide complete packages for your corporate event needs such as food services, event planning, and modern facilities. The management uses Biodegradable materials to make sure Vltava river is kept clean and protected.
Want this as your conference venue? Email them now at events@pragueboats.cz.
Conclusion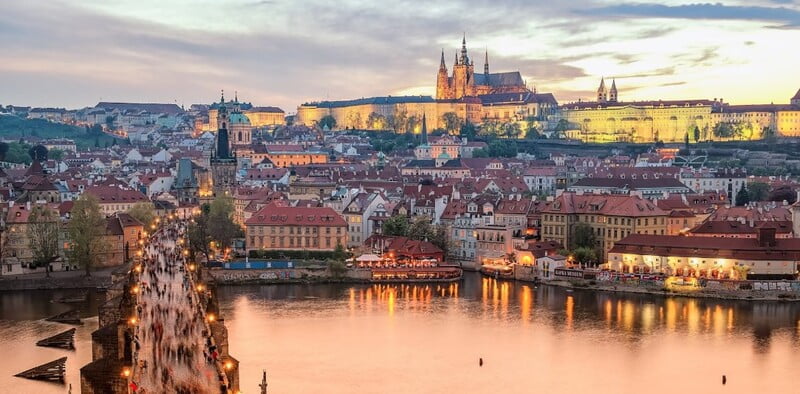 Whatever your event is, the stunning capital of the Czech Republic offers you a variety of conference venue choices you can choose from.
Prague also has a reputation as a safe and sustainable city so you don't have to worry anymore. In addition, Prague has always been appealing to organizers and delegates. All you have to do is to plan your event and choose the best conference venue that fits your company's needs.
Once you've decided on your location, the next thing you have to find is a videographer for your event.
And HayotFilms can help you with that!
We are devoted to the art of video production from corporate interviews, promo events, marketing videos, and more. We promise to provide you with the best output you deserve.
So, what are you waiting for?
Book your event now and experience the best conference meeting in the City of a Hundred Spires.